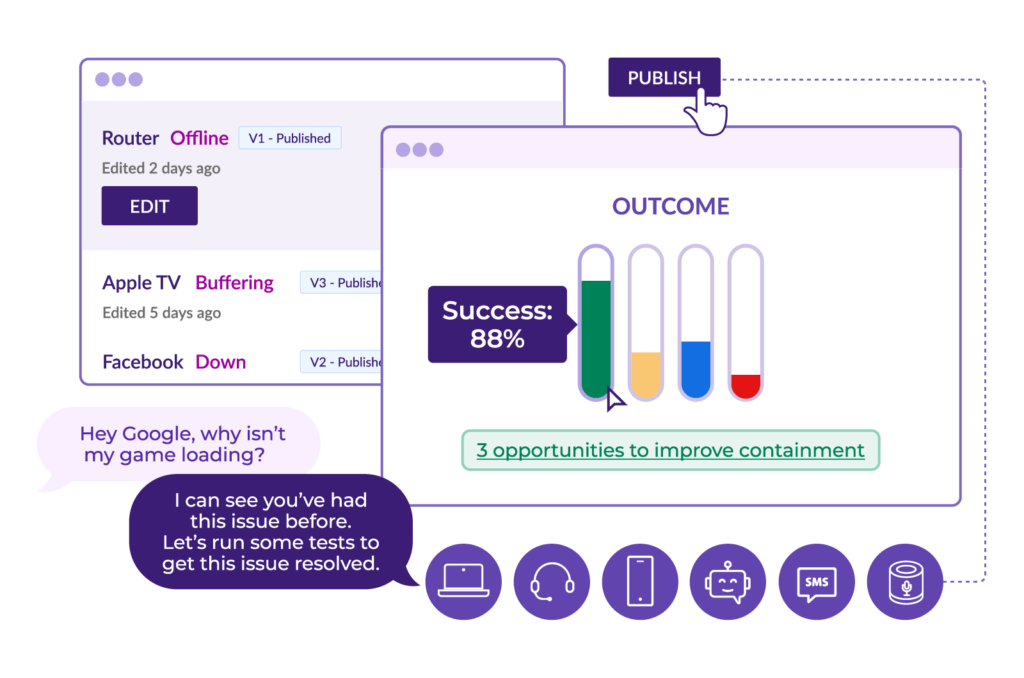 Sweepr is a Digital Experience Platform (DXP) that enables Connected Device Manufacturers and Service Providers to deliver extraordinary digital experiences to customers when they need help or have questions.
Drive customer care and support to digital channels by composing and deploying engaging journeys that are context-driven, highly personalised and dynamic. Whether it's a customer onboarding journey, patchy Wi-Fi or a billing question, your customers can choose the right channel for their needs and resolve their issues quickly.
Digital Self-Service
The platform enables users to build out interactions and journeys in a low-code environment, providing guidance to ensure they have the right level of personalisation at each stage. Once composed, these interactions and journeys can be published and accessed through digital channels, such as in an app (via SDK), website, smart speaker or through SMS/messaging app.
The platform uses data it gathers itself, as well as from other tools in the system, to dynamically orchestrate and apply dynamic decisioning to digital customer journeys via its Real-Time Interaction Manager (RTIM). The ability to dynamically alter the course of an interaction based on a constant flow of data is one of the key strengths of the Sweepr platform.
What is an
extraordinary
customer
experience?
This level of dynamic personalisation and responsiveness fosters confidence within the customer that they will achieve what they want using digital channels.

Whether enquiring about their bill, wondering why their streaming service is buffering, or how to eliminate network dead-spots in their home – each time a customer fixes their issue quickly through digital channels, that's one less phone call to a human customer agent.
Write Once.
Publish Many.
With Sweepr, you can compose interactions in one platform and deploy them across multiple channels. This is a more efficient use of resources and maintains consistency of digital customer experience, no matter how your customers prefer to reach you.