The Sweepr digital customer experience platform consists of two distinct components to enable you to author, deploy and optimise highly personalised digital care experiences: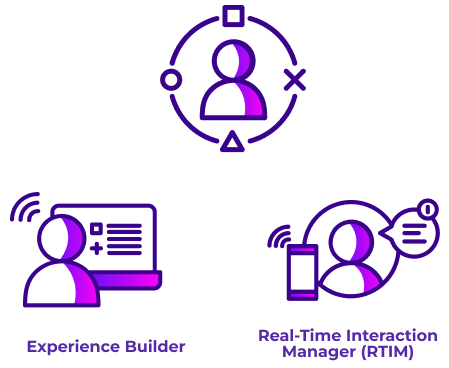 Experience Centre
This is where you create journeys or interactions with Experience Builder in a low code tooling environment, and deliver and optimise them for customers across multiple channels via the Real-Time Interaction Manager (RTIM). Diagnostics data adapters are plugged into the RTIM to integrate sources of rich diagnostic context and this data set is used to drive the dynamic decisioning that's at the core of the Interaction flow.

Journey Analytics
These are the tools used to report and analyse interactions and journeys at an aggregate level, as well as individual customer journeys. Aggregate analytics reporting (the Journey Optimiser) allows you to optimise Interactions and Journeys while analytics applied to individuals (the Customer Knowledge Toolkit) focuses on data analytics to generate a highly Personalised Customer experience.
Experience Builder is at the heart of the platform. This is where you compose and publish the steps that make up the interactions and journeys your customers embark upon, while our Analytics tooling allows you embark on a data science backed continuous improvement cycle. The Sweepr RTIM is the engine that orchestrates dynamic decisioning and Customer workflows, this may be Client side or Cloud side, depending on the Use case.
The Building Blocks
The Sweepr platform is built around four core pillars we believe will be essential to any major digital care transformation.
Rich
Diagnostic
Context
Key to the success of rich digital consumer interactions
is context. This ranges from technical to historical to behavioural:
What's the technical state of this customer's environment?
What's their care and query history?
What are their aptitude and enthusiasm profiles?
Sweeper has built a core model to map and carry this data, and use it in dynamic decisioning and workflow logic to create a dynamic, highly personalised customer experience.
Dynamic
Decisioning
The key to creating a set of granular, meaningful use cases for care is about intelligent, data backed decisioning which uses that rich context. Sweepr ships with the capability to utilise diagnostics in both selection of issue resolution, as well as in key workflow decision points. Real-time and learned aspects of the context dynamically update to ensure historical and behavioural aspects are utilised in decision making.
Low Code
Tooling
The Experience Builder is at the heart of the Sweepr story. The ability to use a rapid, low code tooling environment to create, manage and analyse interactions and journeys is essential to creating a successful digital care capability. Sweepr has built this tool from the ground up to serve digital care, with a strong roadmap of ongoing development to ensure it meets the needs of customers today and in the future.
Analytics
Understanding how users react to their experience,
what works well and what doesn't quite hit the mark is essential to any agile, tooling-based approach to use case development. Sweepr runs real time analytics on customer interactions and the associated data set, giving service providers the insights, data signals and aggregated reporting to understand what to change to improve digital care outcomes.